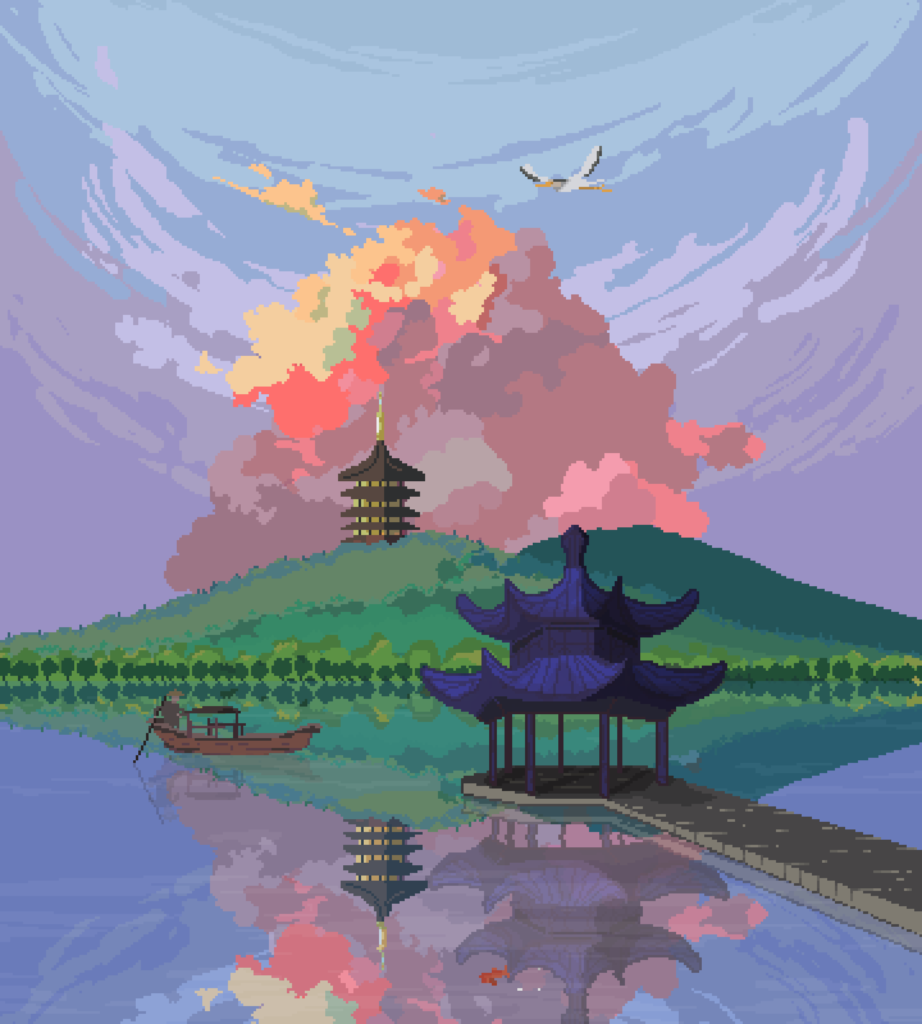 Shanshui Pixel Scenes 山水像素场景 is both a digital poetry collection and a wallpaper app for mobiles and tablets with dynamic pixel art scenes inspired by elements of both traditional and modern Chinese culture. The 15 scenes are created by four renowned national and international pixel artists (@neopixel_art, @erien.strf, @waneella and @abueloretrowave) and contain animations entering into dialogue with 26 poems. Users/readers can read (in Spanish, Catalan, English and Chinese) and listen to the work read by the poet Paloma Chen.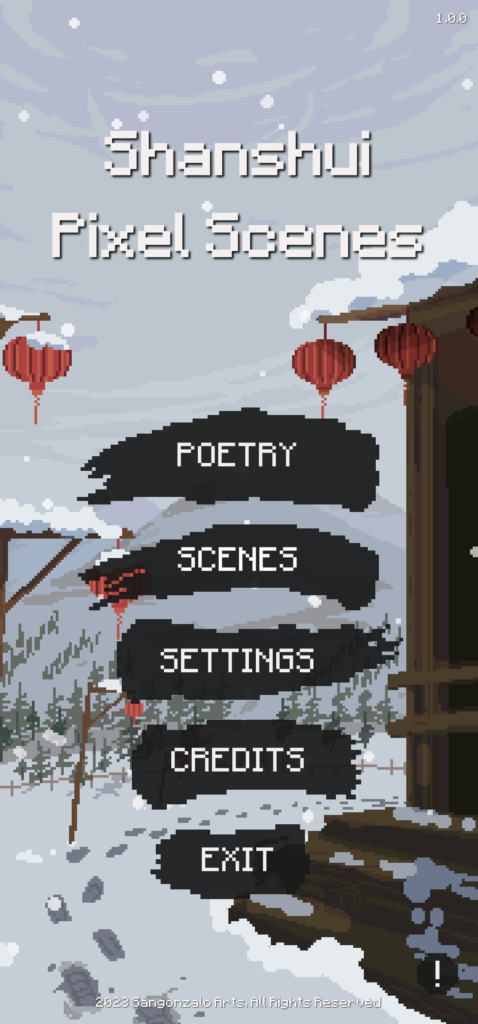 In the face of the elitist conceptions that limit access to art, we vindicate the artistic merit, originality and authenticity of digital art, available on the screen of this device called smartphone that many of us nowadays have in our pockets.
The poems are pieces to be read or listened to in conjunction with the scene. Thus, we want to combine the visual, written and listened part in the same multimedia experience, and take advantage of the possibilities of smartphones and smart devices to interrelate artistic disciplines.
We are real fans of digital art and how pixel art has evolved from being a limited aesthetic form with which video games were expressed visually to being an artistic technique that both nostalgic and new generations claim.
Furthermore, we want to explore how Shanshui shi (山水诗; "poetry of mountains and rivers"), one of the most important genres of classical Chinese poetry, influenced by the traditional Shanshui landscape painting style, could be renewed. Precisely, some of the poems were intended to be read in relation to a particular visual work, while others very clearly evoked images in the mind of the reader.
Index
MYTH: 5 scenes by @neopixel_art – 10 poems
The knot
House built on stone
The ice
No one nicer
The desert
sanmao
Lullaby for a mountain's victim
alchemy
East/West
Storm offering
JOURNEY: 4 scenes by @erien.strf – 8 poems
bit the master´s hand
bit the master´s iron
Les Corts Wild Dreams
Cobwebs
misery-chemicals-anxiety
A personal matter
红烧 heart
YES you will run the family business
SCREEN: 4 scenes by @waneella and 2 scenes by @abueloretrowave – 8 poems
Score
miracles
this gameplay includes commentary
Artificial burrows
Bad for health
Yuri Kochiyama is having breakfast with Malcolm X
In all universes I am tired
Dear daughter of immigrants
Support with Catalan localisation and addicional scenes: